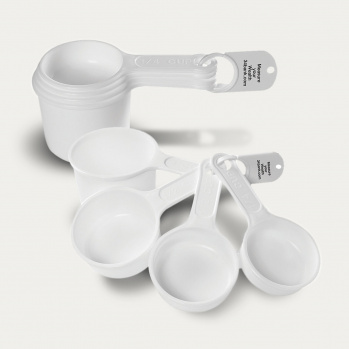 Measuring Cup Set
109441
100
Description: Set of four plastic measuring cups for baking with the capacity of each moulded into the handle. Measures include: 1/4 of a cup, 1/3 a cup, 1/2 a cup and one cup. Hand washing is recommended.
Colour: White.
Packaging: Loose packed.
Dimensions: W 190mm × 82mm.
Price breaks: 100, 250, 500, 1000, 2500 (less than 100 not available)
Note: A lead time of 10–15 working days applies to this product.
Note: MOQ applies per colour on this item.
Price: from NZD$4.74 unbranded. See your price—use the price calculator below.
Printing template (PDF file):
Other products like this: